Fight for Your Money
Our financial literacy class allows participants to be immersed in educational workshops where they learn subjects such as budgeting, banking, saving, credit repair and much more.  During our financial literacy class, participants build a portfolio of financial management lesson plans that they can review to create a plan to gain financial stability. This course is offered annually at no cost to attendees.  At the end of the course, participants are given up to a $100 voucher to go toward their utility bill.  For this reason, class size is limited and early registration is encouraged.
Homework Help
Homework Help is available to students in grades kindergarten through 12. During this time, students are provided assistance with their homework, additional help with challenging subjects and tutoring focused on reading. There are also opportunities for computer-based learning through the Mobile Learning Lab. The Resource Center's colocation with the library also makes the full collection of the Alachua County Library available to youth for additional study and research help. Homework assistance is provided by students and staff. There are limited spots available, and  registration and financial eligibility are required.
Clothing Closet
Every  Monday from 2:00 p.m. – 4:00 p.m. and Thursday from 11:00 a.m. – 1:00 p.m. the Library Partnership opens their clothing closet. On these days, members of the community can stop by the Library Partnership  to obtain clothing items they are in need of.  All items are free and open to anyone in the community. We serve adults and children.
Re-Entry Partnership Initiative
Help with finding a job is one of the most frequently requested services by patrons of the Library Partnership. The Re-Entry Partnership Initiative began in 2016 and provides individuals who may have challenging backgrounds (e.g., criminal history, work history gaps, lack of employability skills) with the tools needed to re-enter the workforce, improve their current employment status or start a small business. The Re-Entry Partnership Initiative also addresses social barriers to employment such as child care, mental and physical health and transportation. The program begins with a four-day employability conference and ends with a job and resource fair. The four-day conference provides participants with critical "soft skills" and resources to assist them with re-entering the workforce and maintaining stable employment. Conference topics include: employability skills (interviewing, job search, professional dress), resume development, mock interviews, higher education and certificate programs along with tips and opportunities to start a small business in Gainesville.
At the Re-Entry Job and Resource Fair, conference participants and the community at-large have the opportunity to put their newly acquired skills to practice by networking with local employers and resource agencies. The goals of the job and resource fair include connecting individuals with employers who are hiring and removing some of the most common employment barriers faced by the participants.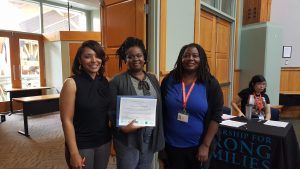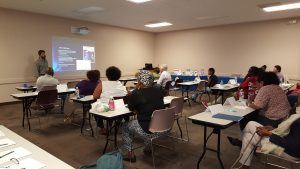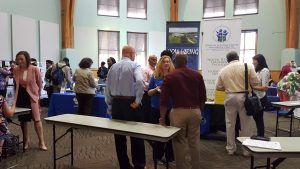 Health and Safety
Health and safety are important aspects to any thriving community.  Through a variety of initiatives such as the Annual Health and Wellness Expo, Zumba classes, primary care services through the UF Mobile Health Clinic and a themed health corner, the Library Partnership partners with community organizations and agencies to educate and provide resources to the community. Resources on child safety, water safety, nutrition, diabetes, heart disease and more are available at the resource center.
Strong Kids Summer Education and Enrichment Program
A hallmark of healthy communities is children who are thriving academically, socially, and emotionally. Each year, the Library Partnership hosts a summer education and enrichment program in collaboration with CDS Family and Behavioral Services and other community partners. The goals of the program are to prevent summer-time learning loss while engaging elementary-aged children in enrichment programming to increase their resiliency skills and social functioning, and expose them to new opportunities.
Children enrolled in the program participate in daily math, reading and enrichment activities such as field trips, Girl Scouts, WhyTry Youth Resiliency Programming and health-related activities. Children also receive breakfast, lunch and snacks each day. Registration is required and spots are limited.
Check out the fun we had at our 2018 Strong Kids Summer Program!
2019 Summer Program participants were able to enjoy a field trip to the Cade Museum thanks to a grant from the Alachua County Community Agency Partnership Program – check it out!