Click here to view the May calendar!
In response to COVID-19, our hours and programs are changing week-to-week. For the most up to date schedule, visit our COVID-19 response page or call the Resource Center at 352-334-0160.
The Library Partnership represents a dynamic new approach to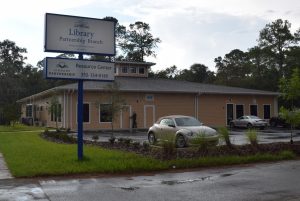 neighborhood engagement in which all members of the community – parents, local government, schools, businesses, public and private agencies – join together as equal partners to begin the process of identifying and achieving mutual goals and objectives. In one area of the Library Partnership, residents have at their disposal a fully functioning branch of the library,while in another area the Resource Center offers a broad array of family support programs that are facilitated by more than 40 community agencies.
912 N.E. 16th Avenue | Gainesville, Florida 32601
SEE ON THE MAP
Resource Center Phone Number: 352.334.0160
Library Phone Number: 352.334.0165
Resource Center Hours:
Mondays, Tuesdays, Fridays 9:00 a.m. – 5:00 p.m.
Wednesdays, Thursdays 11:00 a.m. – 5:00 p.m.
Saturdays and Sundays – Closed
Clothing Closet Hours: 
Mondays 2:00 p.m. – 4:00 p.m.
Thursdays 11:00 a.m. – 1:00 p.m.
Library Hours:
Mondays, Tuesdays 9:00 a.m. – 6:00 p.m.
Wednesdays, Thursdays 11:00 a.m. – 7:00 p.m.
Fridays 9:00 a.m. – 5:00 p.m.
Saturdays 10:00 a.m. – 3:00 p.m.
Sundays – Closed