Partnership for Strong Families is led by a board of passionate and dedicated individuals who are helping to create a brighter future for local children and families. Scroll down to learn more about this team, or click on the video below to hear Board Director Donavan Arnold share why he is committed to PSF's mission.
Check out one of our board members, Donavan Arnold, share his "why" for National Foster Care Month. We are so thankful to have him on our team and for all he does to share our message throughout the community! #NFCM2018 #NationalFosterCareMonth #FocusOnFostering #RelativeCaregiver

Posted by Partnership for Strong Families on Monday, May 14, 2018
PSF's Board of Directors can be reached via email at BoardChair@pfsf.org.
---
KATHRYN (KITTY) MCELHANEY – CHAIR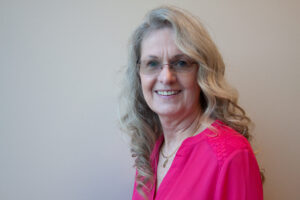 Kitty McElhaney obtained her Specialist in Education from Nova University and also holds a Master's in Business Management from Central Michigan University and a Bachelor's in Mathematics Education from Ohio Dominican College. She has received numerous honors and recognitions including Teacher of the Year and Assistant Principal of the Year. Ms. McElhaney has more than 40 years of experience in the school system serving in both teacher and administrative roles.
Ms. McElhaney is a member of Delta Kappa Gamma Society and currently sits on the Board of Take Stock in Children.  She is also a member of Altrusa International, sitting on the Board for four years including the Immediate Past President for the Southern Region.  She has taken an active role in her community and provides a keen insight into the needs of residents of Columbia County to PSF's Board of Directors. Her experience in the education system helps to guide PSF's Board in making important decisions to ensure children in our care have their academic needs and goals supported.
ESTER TIBBS – CHAIR EMERITUS
Ester Tibbs has a Master's degree in Social Work from Atlanta University and a Bachelors' of Arts in Sociology from Alabama A&M University. In 2011, Ms. Tibbs retired from the Department of Children and Families, where she served children and families of our community for nearly 35 years. She began working as a social worker for the North Florida Evaluation and Treatment Center and was later promoted to Director of the Psychiatric Unit. Beginning in 1984 and until she retired, Ms. Tibbs held several management positions with the state serving District 3, the most recent being Circuit Administrator for the Department of Children and Families' Circuits 3 and 8.  In this position, she had a significant role in the privatization of child welfare locally and worked closely with PSF to ensure the child welfare system provided a strong safety net for this community.  Ms. Tibbs actively serves the community as a Board Member of the Community Foundation of North Central Florida, Chair for the Women's Giving Circle, Vice-Chair for Friends of Children, Inc., as well as an active member of United Way, Altrusa International and Gainesville Women's Forum.  In addition, she mentors students through Take Stock in Children and is a Reading Pal through United Way. Ms. Tibbs brings a wealth of knowledge and strong commitment to serving children and families to the Board and to our community.
KAY AYERS – CHAIR ELECT
Kay Ayers is a retired Human Resources executive from AvMed, Inc. and SantaFe HealthCare, Inc. Prior to her 27 years in Human Resources, Ayers worked in Finance and Accounting for 7 years.  Ayers also spent 10 years as a partner and staff accountant in a local CPA firm.  Ayers currently participates as a member of Haven Women of Philanthropy, Women's Giving Circle, and the Community Foundation of North Central Florida Board of Directors and Governance Committee. She has also served on the Board of Directors for the Girls Place, Junior Achievement of Alachua County, United Way of North Central Florida, and the Florida Chamber Foundation.
BARBARA LOCKE – TREASURER
Barbara Locke is a 50-year resident of Florida, with more than 40 years of service to the Florida Department of Health. She holds a Master's Degree in Public Health and a Bachelor's of Science in Nursing. Ms. Locke lives in Levy County, is recently retired as the Administrator for the Dixie, Gilchrist & Levy County Health Departments where she also oversaw the Healthy Start and Healthy Families programs. She has served on the Board of the Rural Health Network, the Early Learning Coalition of the Nature Coast, Suwannee River Area Health Education Center, Whispering Winds Charter School and FACCHO, and the North Central Florida Health Planning Council.
DEANNA BEVERLY – SECRETARY
Dr. DeAnna Beverly is the Vice President of Quality and Patient Safety at North Florida Regional Medical Center. Her various background in nursing and healthcare allow her to bring a comprehensive approach to her work place, not only maintaining operational tasks, but also understanding the care that each patient receives.  She received her Doctorate in Nursing Practice at the University of Central Florida in 2016, after earning her Masters of Science in Nursing in 2009 and a Bachelor of Science of Nursing in 2007. She also holds a Masters of Business Administration in Healthcare Administration from the University of Scranton in 2011.
She has also taken an active role in her community throughout the years. She has served as a board member for the Chiefland Chamber. Also, she has served at the Suwanee Valley Rotary and for Florida's Healthcare Coalition for District 3.
From her experience as a foster and adoptive parent, Dr. Beverly is dedicated to serving PSF in any capacity. She is passionate to see PSF retain its current foster families, while creating new efforts to recruit new foster parents.
EDWARD C. PEDDIE
Mr. Peddie is the President & CEO Emeritus of Santa Fe Healthcare and a Visiting Instructor at the University of Florida, where he teaches a graduate Health Sciences course entitled "Entrepreneurship and Innovation."
Mr. Peddie received his bachelor's degree from the School of Psychology, Florida State University and his master's degree in hospital administration from the School of Public Health, University of Minnesota.  He is a 1990 graduate of the Harvard Business School's Advanced Management Program.
A Vietnam veteran, Mr. Peddie served as a Captain in the U.S. Army Medical Services Corps and spent a year as advisor to the Republic of South Vietnam Armed Forces' Surgeon General and the Minister of Health of Vietnam.  He was awarded the Bronze Star for meritorious service by Military Assistance Command, Vietnam and an equivalent Medal by the Vietnamese Armed Forces Surgeon General for his meritorious work in Vietnam.
Mr. Peddie is a former Board Member of the American Association of Health Plans, the Hospital Research and Educational Trust of the American Hospital Association, the Florida Council for Economic Education, the Alliance of Community Health Plans, the Florida Hospital Association, the South Florida Hospital and Healthcare Association, and many others. Mr. Peddie currently serves on the Board of Directors of Webber International University and Partnership for Strong Families.
MUTHUSAMI KUMARAN
Dr. Muthusami Kumaran is the Assistant Professor of Nonprofit Management & Community Organizations, Department of Family, Youth & Community Sciences, College of Agricultural & Life Sciences, University of Florida. He has a Ph.D. in Public Administration and a Ph.D. in Urban & Public Affairs. His teaching, research and service works revolve around management capacity building for nonprofit organizations. He teaches various courses on nonprofit management. He has assisted numerous nonprofits in the USA and NGOs in India, South Korea and The Bahamas in enhancing their organizational capacities and management practices. He currently serves on the UF President's Council on Diversity and as the Chair of UF International Center's India Working Group.
He also serves on the boards of Florida 4-H Foundation, Alachua Conservation Trust and as a Trustee of Sethu Valliammal Education Trust, a large educational NGO that operates schools and colleges in India. He has received several honors and awards in recognition of his teaching, research and service excellence including: The Honorable Order of Kentucky Colonel, UF/IFAS International Achievement Award, NACTA (North American Colleges & Teachers of Agriculture) Educator Award and Social Reformer Award.
DONAVAN ARNOLD
Donavan Arnold was born and raised in Gainesville. Mr. Arnold attended Lake City Community College and Santa Fe College before earning his real estate license. He is currently a realtor for Keller Williams Realty in Gainesville which has given him a strong ability to build relationships and network within the community. His business background and experience in the Gainesville community have made him a valuable member of the board.
Mr. Arnold became passionate about child welfare in 2013 when he became the permanent guardian for his two nephews. Mr. Arnold is a great asset to the board as he has worked with PSF first-hand and has a unique understanding of the issues that children and families in our care can face. He has a strong commitment to helping PSF expand our presence in the community.
WILL HALVOSA
Will Halvosa has served the Gainesville Police Department (GPD) for over 30 years, rising steadily through the ranks and earning multiple awards for his merit and dedication to the force. These include the prestigious RT Angel Award for outstanding detective work, as well as two RB Ward Awards for supervisory excellence.
Mr. Halvosa holds a Bachelor of Arts in Criminal Justice from the University of Florida and currently serves as the Disproportionate Minority Contact Coordinator at the GPD. He continues to be a steady lead on many GPD initiatives involving racial and ethnic disparities, youth, and the community's relationship with the justice system. He also helped develop and now teaches the Department of Juvenile Justice's DMC and Procedural Justice Training program around the state of Florida through the Fox Valley Technical Institute.
In addition to being on PSF's Board of Directors, Mr. Halvosa also serves on the board of the Child Advocacy Center and IWI YouthBuild.
Beyond his work, Will enjoys exercising, golf, old cars and raising a variety of farm animals. He and his wife have three children.
ELIZABETH MITCHELL
Elizabeth Mitchell is an active member of her Hamilton County community and brings both professional and personal experience with social work to her role as a Partnership for Strong Families board member. Ms. Mitchell graduated from Florida State University in 2004 with a degree in social work and received her Master's Degree in 2020.  She currently works as a guidance counselor at Hamilton County High School in Jasper. She spent years working as a social worker and also has experience as a relative caregiver, caring for and eventually adopting her biological nephew.
She presently serves as a member of the Hamilton County Strategic Healthcare Planning Committee and is an active Sunday School Instructor and Vacation Bible School Music Director at First Presbyterian Church of Jasper. She previously served as a Board Member of the United Way of the Suwannee Valley and participated in the Hamilton County Child Abuse Prevention Taskforce.
BEVERLY POPE
Beverly Pope is a married mother of seven children and lives in Lake City. In addition to adopting three of her sons, Ms. Pope and her husband served as foster parents for five years and non-relative caregivers to two children for a year.  She works as an Administrator at the VA Medical Center in Lake City where she has been employed for over 27 years.
Through her role as a Partnership for Strong Families board member, Ms. Pope aspires to "Be about the change." She is passionate and eager to bring additional ideas concerning resources for foster parents and children. In her spare time, she serves as President for both the local Foster Adoptive Parent Association and Woman Missionary Society.
KENNY BRIGHTON
Kenny Brighton brings a wealth of knowledge of community-based care to his role as board member for Partnership for Strong Families. Mr. Brighton moved to North Central Florida from Broward County where he worked in community relations for community-based care agency ChildNet in Fort Lauderdale. He brings his experience from ChildNet to the Partnership for Strong Families Board. In his free time, he served as board president for the Kiwanis Club and American Cancer Society Relay for Life. He also volunteered for the Boy Scouts of America.
Mr. Brighton is no stranger to the Gainesville area as he received two Masters Degrees in Public Administration and Family, Youth and Community Sciences from the University of Florida. After he recently moved back to the area, he started volunteering for Take Stock in Children. He also currently serves as Director of Marketing for ABA Advisors, LLC. He lives in Newberry with his wife, Ali.
PATRICK ALLEN
Patrick Allen is currently part of the Health Administration and Haven Hospice. He is actively involved in the community and is a current member of the following organizations: Back Fighting Cancer, Suwanee Valley Rotary and AmVets Post 422.   Mr. Allen is a LCSW with a wide array of work experience that includes working with at risk children, severe mental illnesses, and hospice care.
JENNA HEWETT
Jenna Hewett is an Executive Director at Bradford Community Coalition, an alliance board that focuses on prevention. She has a strong connection with her community and believes that her connection and passion will lead her to serve the community in a positive way. She has been a member of the Community Coalition Alliance board and is also employed with the Bradford County School district as a Varsity Cheerleading Coach which she has been doing for four years.  Ms. Hewett is a Take Stock in Children mentor in Bradford County as well, and says she has a passion for working with youth.
She has a background in prevention and chronic disease which has allowed her to host numerous community events focused on health and the prevention of youth substance abuse. She has also facilitated the Tobacco Free Partnership of Bradford County and Students Working Against Tobacco program for six years now.
ADVISORY BOARD MEMBERS
ARGATHA GILMORE
SHERIFF ROBERT SCHULTZ
JOE DUNLAP