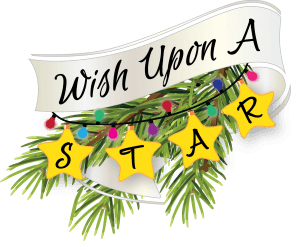 Wish Upon a Star is Partnership for Strong Families' annual holiday toy drive that benefits more than 1,200 local children who have experienced abuse or neglect and makes their holidays a little merrier. What is unique about this drive is that you have the opportunity to purchase the specific gifts the children in our care are wishing for this year.
Together, we can make sure that the wishes of our area's most vulnerable children come true this holiday season! Will you help us achieve our goal?
As a Wish Upon a Star donor, you will receive a star for each child you sponsor. This star will include his or her first name, age, race, gender and three unique wishes.
We ask sponsors to fulfill two of the three wishes on the child's list. As each wish is about $25, each child sponsored is about a $50 commitment. All gifts are due to PSF the week after Thanksgiving to ensure they are able to be delivered before Christmas.
THERE ARE 3 WAYS TO DONATE
Sponsor a child and shop for their specific wishes
Purchase a child's wishes from our Amazon Wish List and ship them directly to our office
Provide a monetary donation, and we will do the shopping for you!
For more information, please contact Aldreka Everett at 352-244-1629 or Aldreka.Everett@pfsf.org.